Made in SF: A Simple Intro to the SF Film Commission
One of my favorite professors while in school spent an a lot of energy informing his students on ways to make shooting in the city affordable. From stealing shots while on BART and the makeshift "you're on camera" signs that release liability we learned how to make films in a flash and off the grid.
However, I'd like to take a look at the legitimate incentives being created to elevate San Francisco professional filmmaking that HBO shows shouldn't be the only ones taking advantage of.
Filming in San Francisco is a big choice and one that many elite Bay Area-based filmmakers choose to abandon when it comes to their chosen projects. Of course, many of these are set outside of the bay and I don't want to suggest that creative license should be abandoned to satisfy city patriotism. I understand that Spider Man needs to be made in NYC while anything involving invasion of Apes includes CGI San Francisco and then runs over to Pasadena for pretty house shots.
There are many facets of filming within the city "walls" that so many seem to be unaware of. From all phases of filmmaking there are vast resources in this city if you're interested and willing to put the work in to familiarize yourself and learn its language.
Without further ado I introduce my first Made in SF beat:
A Simple Introduction to the SF Film Commission
Located at the headquarters of SF Politicking is the SF Film Office, Suite 473 to be precise.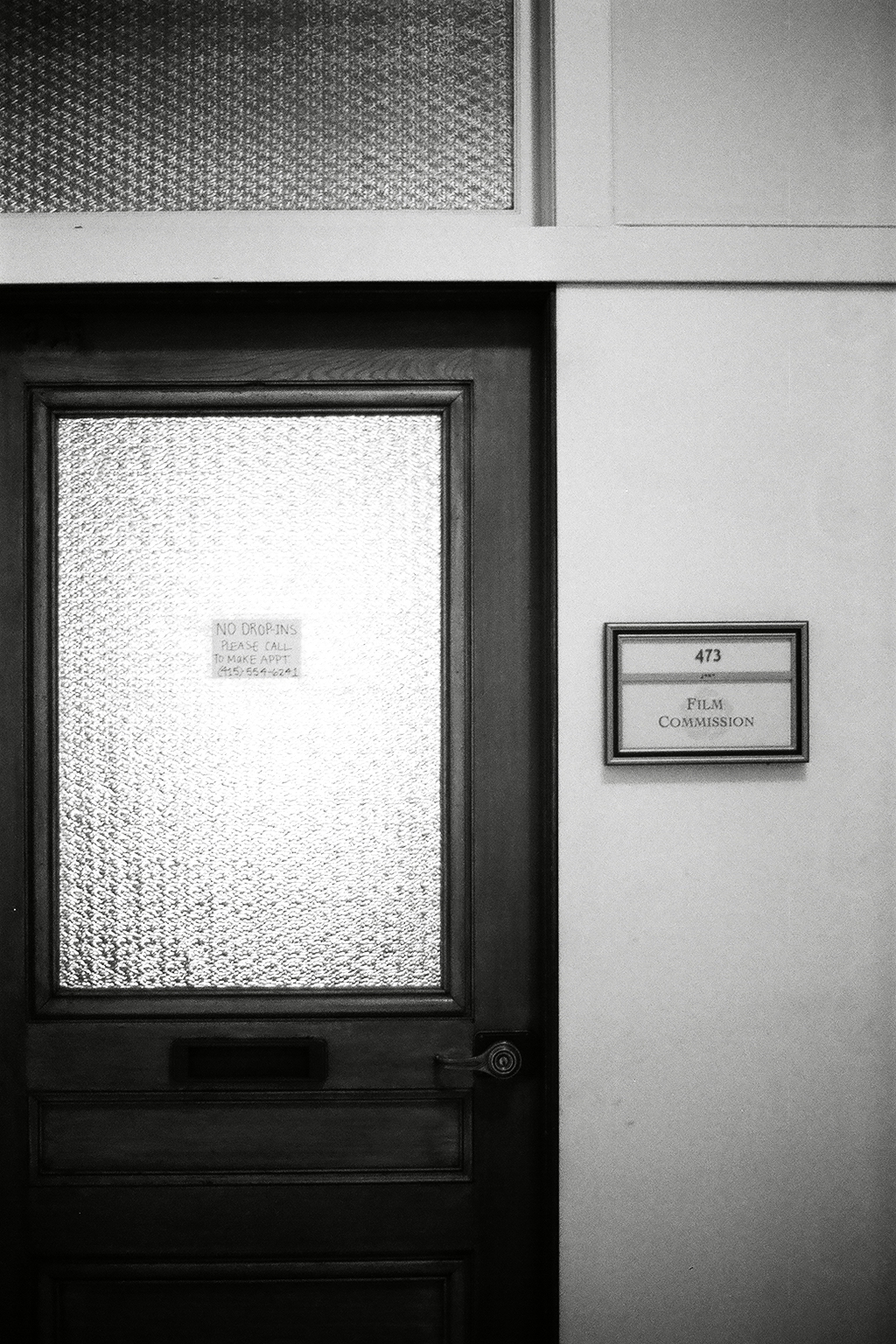 Discussions in film circles always include the complaint, "its too expensive to shoot in the city". However, in practice the fees to film in San Francisco don't differ largely from comparable cities such as Chicago or New Orleans. As goes the price of Dynamo Donuts so does the permit fee to film near their deliciousness people.
San Francisco permit fees for commercial or short films are $200/day and $300 for feature or TV series productions. However, production budgets are taken into consideration and filming fees can be reduced to $100/day.
The fees in SF are charged on a per day basis, no matter how many locations you have. In comparison Chicago fees are $25/day per location. Depending on what you're filming schedule and location count is this can be seen as a pro or con.
The San Francisco Film Commission reported income permit fees of $172,442 for this past fiscal year, which doesn't make a dent to the revenue in comparable cities like Chicago or New Orleans. However, this is a 10.9% or $16,942 increase in permit fees since FY11/12 and we should keep in mind that Chicago is the host city of studio productions such as Divergent and Transformers 52. New Orleans played host to HBO's True Detective and American Horror Story. Time will tell if this number will rise as HBO's Silicon Valley makes appearances in the city as many tech workers do on their weekends at Butter in SOMA. Will Looking keep filming at local hotspots? Let's hope so SF.
From the Fiscal Year 12/13 report:
In FY12/13, the number of permits issued by the Film Office increased by 22% with 549 permits issued, compared to 450 permits in FY11/12. In FY12/13, the number of actually shoot days decreased by 5% while the money collected from permits increased by $16,942.
A major Disney production folded in 2013 which the commission attributes for the decline in shooting days.
The SF Film Commission isn't standing by stagnant but actively offering incentives to filmmakers that more should be aware of for their production use. Their website may not be the easiest to navigate but it provides a wealth of information for those of you interested in producing in San Francisco. Take a moment to read through their pages and familiarize yourself with their policies. It will only improve your decision making when it comes between filming in the city or the East/South Bays.
Incentive Numero Uno: Scene in San Francisco
San Francisco offers a refund on fees and payroll taxes paid to the City during production of up to $600,000 per production.
To qualify:
Feature length films, documentary and television films, movie of the week, television pilot or episode of a television series or non-scripted television episode. (i.e. Cinema By the Bay Alumni "I Think It's Raining" by Joshua Moore would have qualified)
What doesn't qualify:
News or current affairs programs, interview or talk programs, instructional films, films that are mostly stock footage, sporting events, commercials (SONY: see below), instructional videos, fundraising films, music videos, or pornographic programs (sorry Kink.com).
The gist:
Feature films, tv series episodes, and pilots are all eligible for the program. For budgets under $3 million, 55% of principal photography will have to take place in San Francisco. For budgets of $3 million or more, 65% of principal photography must take place in the city.
There are stipulations that can be hard like your production office having to be in the city and county of SF. With rents ever rising that's no easy feat for an independent production. A way you can find relief is through the SF Film Society FilmHouse Residences that aid in the provision of FREE production office space to local independent filmmakers. Applications are closed at the moment but will open up again in October so now is the time to prep! Once in there you'll want to use your time wisely.
NOTE: Don't overlook the Scene in SF Vendor Discount Program
Scene in San Francisco program offers a very sweet discount card for productions made in SF.
Participants include big and small guns alike: Virgin Air (for that talent you may/may not fly in from LA),
Edwards Luggage (for props),Rangoni Firenze Shoes, San Francisco Optics on Chestnut, Siegel's Clothing Superstore & Tuxedos, Brave Theater Center, Yerba Buena Center for the Arts, Puccini and Pinetti, The Winery SF, Laundry Locker Dry Cleaners, ArtHaus Gallery, and many more!
Residents of Potrero Hill may be well versed in neighborhood notifications for filming on their streets at least once a week but unfortunately this is mostly for commercials. This may be great as the bread and butter of so many Bay Area-based filmmakers but don't you just wish they'd have a better time shooting long form narrative with those great views behind them?